Physiotherapy in Mira Road
High Professional physiotherapy for all types of muscle and joint pain treatment. Our physiotherapist has have extensive practical experience and training.
About Dr Khushbu's Physiotherapy Clinic
Dr. Khushbu's Physiotherapy Clinic is associated Physiotherapy Clinic with Mira Bhayandar Physiotherapy Associate.
Dr. Khushbu's Physiotherapy Clinic is successfully run by Dr. Khushbu Jaitly, who is EX-Nair Hospital Physiotherapist.
Our organization consisting of graduate physiotherapists and assistants who are professional trained for Physiotherapy Treatment, Patient's Care, Taping, Acupuncture and Mobilization assessment.
Dr. Khushbu's Physiotherapy Clinic provides physiotherapy Treatment for :-
Muscle Pains
Joint Pains
Senior Citizen Care
Paralysis Cases
Chronic Muscle Pain
Contact us for any physiotherapy treatment at clinic or home.
Physiotherapy Treatment In Mira Road
High Professional physiotherapist for all types of Joint and Muscle Pain treatment in Mira Road.
Back Pain Treatment
Get relief from Chronic or New Back Pain through advanced Physiotherapy treatment. Our advanced physiotherapy treatment is best suites for -
Back Pain
Upper Back Pain
Lower Back Pain
Cervical Spondylosis
Slip Disc
Difficult While Walking etc
Neck Pain Treatment
Neck Pain Physiotherapy in Mira Road treatment is most effective way to beat chronic or acute neck pain. You can consult us for below Neck Pain Condition: -
Neck Pain
Nerve Pain
Facet joint pain
Difficult to Move Neck and Joints
Knee Pain Treatment
We offer advanced physiotherapy treatment for Knee Pain in Mira Road. Our Knee Pain Treatment in Mira Road includes :
Knee Pain
Calf Pain
Arthritis
Post Operative Rehab
Difficult to walk
Walking Posture Correction
Paralysis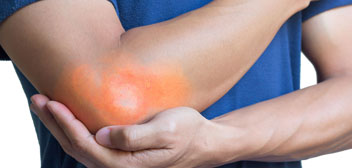 Elbow Pain Treatment
Constant working on same position without taking rest can leads to unexpected Elbow pain. Such Elbow Pain may more harmful and distractive to work.
Elobow Pain
Tennis Eblow
Broken Arms
Twist
Swelling
Slip Disc Physiotherapy
Physiotherapy Treatment can help the patient to reduce slip Disc pain. Regular physiotherapy sessions can back patients life to normal. Physiotherapy treatment can strengthen the back and hamstring muscles, this will bring comfort to the spinal column, and hence pain will reduce over the period of time. If you're suffering from Slip Disc Pain then immediately contact us for treatment.
Frozen Shoulder Treatment
Are you facing difficult to raise hand up or not able to move hand freely? It is indication of Frozen Shoulder. Frozen Shoulder is very painful in later stages and restrict movement largely.
At Dr. Khushbu's Physiotherapy Clinic offer Frozen Shoulder Treatment. Experienced pain relief from day one, improvement from day one.
Benefits of Physiotherapy
Dr  Khushbu's Physiotherapy Clinic offer advanced physiotherapy treatment in Mira Road. We have state of art clinic set up for complete physiotherapy treatment.
Shantu Solankhi Review for Dr. Khushbu's Physiotherapy Clinic
Richa Bansal Review for Dr. Khushbu's Physiotherapy Clinic
Gurinder Kaur Chhabra Review for Dr. Khushbu's Physiotherapy Clinic
Two years after a bike accident that injured my shoulder badly and had surgery too. After surgery I am finding limited improvement from various therapies (& doctors), I decided to make one more attempt and came here. I was glad I came here. Today is my last day of session and now I am 80% perfect and mover has increased. As per me Dr. Khushbu is best physiotherapist in Mira Road I ever see
I have attended physiotherapy sessions with Dr. Khushbu Jaitly for both my elbow (tendonitis) and a knee pain. I appreciated her approach of using both acupuncture alongside physiotherapy methods for my elbow and knee. I felt the combination was definitely of benefit to a speedier recovery. I personally recommend Dr. Khushbu Jaitly for physiotherapy treatment in Mira Road. She is best physiotherapy
Just wanted to say thanks for all your insight and help. I injured my lower back 20 years ago. Surgery helped but I was left with nerve damage, low grade chronic pain and cramping. After re-injuring my back recently I came to you, and I must admit I wasn't coming with much hope. But you manage very well and improved my condition by 60%. Thanks Dr. Khushbu for all good work